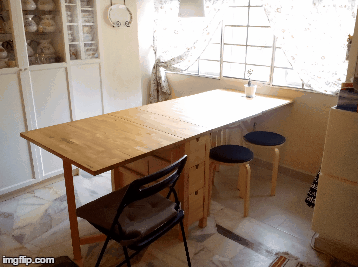 I've owned two Ikea tables for several years, The first is a Norden gateleg dining table, which I use in my dining area and the second is a Norbo drop leaf table, which I use in the kitchen. Recently, I was struck with inspiration to turn my four-seater dining table into a six-seater. Basically, I attached my Norbo next to my Norden and as you can see from the picture below, it's a perfect fit!
Here's the 6-seater configuration. I use Frosta stools instead of chairs because they're stackable, space saving and can double as side tables. In a small home like mine, every inch of space counts and just about everything does double duty.
When I don't need the extra table space, I drop one side of the Norden and it becomes a 4-seater.
Then, if I need some floor space, I can fold the Norden down completely and push it to one side to act like a console. With just the Norbo table, I have a seat for two by the window.
And when I need all the floor space I can get, I can fold the Norbo table down too! Isn't that neat? This is why I love Ikea AND living in a small space. It forces me to be more creative and challenges me to come up with solutions that will work for us :)
I love my "transformers" dining table and Amir appreciates all the extra elbow room. He loves model and lego building and so he spends his time here now working on new projects.
PS: Actually this table can have two more configurations if I fold down the Norbo completely and just use the Norden with one or two leaves open;)