I have three resolutions for 2017. 1. To get healthier as a family, 2. To embrace minimalism and 3. To be more self sufficient. And part of being self sufficient (at least in my view) is to learn how to make and do things for myself. To me, there's pleasure in slowing down and learning to make things by hand, even the basic things that we've taken for granted in our busy lives... Like making bread!
I've gawked at The Baker Brothers' bread-making videos for ages and they make it look so easy, but where does a novice like me even begin? I thought I'd start by getting myself a bread maker. So a few months ago, I bought the Tesco BM1333 2L, which I got at a discount from Lazada, at around RM170. Here's what it looks like...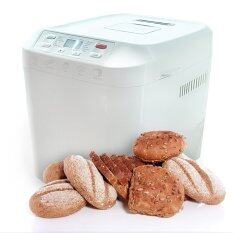 How do I like my bread maker and what kinds of breads have I made? Find out after the jump...